How did the celebration of New Year's Eve begin? Why is the beginning of a year placed in the middle of a dead winter? And where did the many customs surrounding it originate?
     M
OST people carelessly assume that celebrating New Year's Eve is a Christian custom.
But did the practice of "
waiting the old year out
" really come from the Bible?
Is January 1 the true beginning of a new year? Who has the
AUTHORITY
to determine when a new year begins?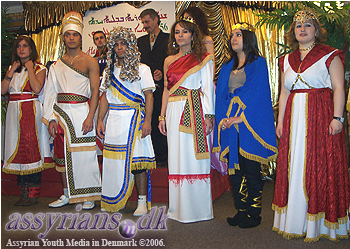 Babylonian Assyrian Youth Union in Denmark arranged AKITU FESTIVAL (New Years), re-enacting the ancient pagan festival known today as "New Years".
New Year's is one of the oldest and most universal of all pagan
TRADITIONS
! The custom of celebrating it has remained essentially unchanged for 4,000 years!
"
There is scarcely a people, ancient or modern, savage or civilized
," writes Theodor H. Gaster, in his definitive book "
New Year
", "
which has not observed it … in one form or another. Yet no other festival has been celebrated on so many different dates or in so many seemingly different ways
."
In ancient Babylon, New Year's festivals were closely bound to the pagan feast called "
Christmas
" today. The little-known connection of New Year's with Christmas is made clear in our free booklet, "
The PLAIN TRUTH About CHRISTMAS!
" If you haven't read it before,
visit our website
to view it online immediately.